This all started in my quest to begin a new hobby...
I recently have taken up knitting!
I LOVE IT. A big shout out to my Aunt Joie for showing me the ropes!!
I am working on a scarf for the Hubs right now.
Honestly, its probably going to take me till next Winter to finish but hey...I am going to try.
I just finished this project.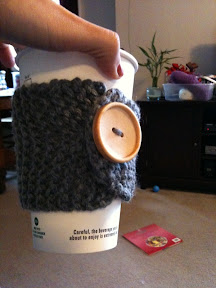 I began not knowing exactly what I was going to end up with.
But don't look too closely.
Its far from perfect but I am still very proud of it.
Its my first knitted thing!
Don't laugh...
*I am totally cheesing from ear to ear*
Do any of you know how to knit?
What are some of your favorite sites on knitting?
Please share :)